WHAT WILL TOMORROW BRING!
Agency to News, Broadcast, Business, Public Relations or Corporate!
Go to GRAPHIC DESIGN
GRAPHIC DESIGN
Where and how your brand will be used, requires the attention to showcase and dominate. Branding/Logo to Designing Your Business Core Materials.
Go to CORPORATE PRESENTATION
CORPORATE PRESENTATION
Offsite Creative to Show Operations to Graphics Manager support for any size Event, from Rehearsals to the General Session Show Room.
Go to CAMERA ENG CREW
CAMERA ENG CREW
ENG Crews for Corporate Video to Broadcast Television, from Behind The Scenes to Interviews, Green Screen, or Multiple Crews Coverage. Crewing and Gear for any size Production.
Go to WEBCAST FLYPACK
WEBCAST FLYPACK
Single Camera to Multi-Camera Video Flypack Systems with Webcast Systems to Go Live on Facebook, Skype, Youtube, Twitch.tv, Periscope and more.
TIME & FIELD TESTED SKILLSETS
When it's CRUNCH Time.
Mathias Gonthier started Ripple Graphics llc., in 2000, offering Graphics Design Services. Agencies were quick to put his knowledge to work in Corporate Show Graphics, Photography, Entertainment & Television Broadcast Production. Recently, he's added more video support with Live Webcast Flypack packages.

He has over two decades of experience, and travels with high-level technical shows and events as Corporate Graphics Show Operator and Broadcast Cameraman.

Born and raised in both France & the U.S., he has stayed in touch with his roots by managing both technical and crews working with International Corporate Events and Television Producers.

Not shy to the work, he's always specialized in critical last minute support as a lead position for many amazing and challenging events that push onsite excellence and determined to getting it done.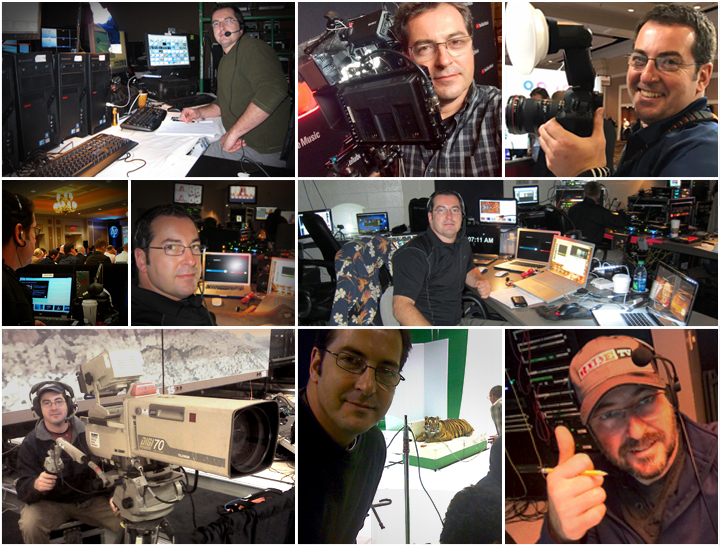 SOME OF THE HAPPY CLIENTS
Fox Sports Network  .  NRJ France . Adobe Software . Discovery . Tele M6 France . Microsoft . IHeart Radio . DGB . CBS . Google . HBO . Cramer Productions . Encore Productions . Amazon . Winnercom . E! Entertainment . DELL . NHL/Vegas Golden Knights . Cisco . VH1 . IMAGE . Speed Television  . Fred Television . Citi Financials . Showtime . Workday . TBA Global . Comcast . Hilton Worldwide . SpeedTV . HP . OPUS . Bette Midler . Seagate . KTLA . Jack Morton Production . OSA . Inside Edition . NBA . Clarion Hotel . Walgreens . PSAV . Dassault Systemes . Dolby Laboratories . Essilor Lens . tele7.FR . Full Tilt Poker . LOWE'S . George P. Johnson . Go! Production . NatGeo . Hennessey . Hartman Studios . LDM . Home Depot . HKM Productions . InVision Communication . Make-A-Wish .  Publicist . Vegas.com  .  Momentum . Dish Network .  Gail & Rice  . Wallmart . World Series of Poker . Yahoo Music . Ride.TV

WHOSE IN THAT CHAIR MATTERS
You count on us, and we count on you.
TESTIMONIAL / BTS / INTERVIEWS - ENG CREW
GREEN SCREEN INTERVIEWS
CORPORATE PRESENTATION RECORDING
SPORTS AND LIVE BROADCAST CAMERAMAN
LIVE WEBCAST STUDIO
WHAT FUN WE'VE HAD!
Past Work & Pics!